Lead generation is the lifeblood of any small business. If you have a website for your small business, and the leads are barely trickling in, one or more aspects of your website could need an overhaul. In this article, you'll learn top website lead generation tips to improve the effectiveness of your website as a marketing tool.
Audience Call-Out and Benefits Statements
The first thing people should see when they arrive at your website is a direct call to your audience with a benefits statement. The most effective benefits statements address exactly who your customers are, their most pressing needs and desired outcomes.
If you're not clear on these points, read our article, "How to Create an Ideal Customer Avatar". It comes with a worksheet and instructions to help improve your overall marketing strategy and communications.
Benefits Statement & Hero
Your benefits statement should be presented in headline text, and above the fold, on your home page or other stand-alone landing pages. This is the area of your website that visitors see when they arrive, and before they scroll down the page.
A visual cue, above the fold, can also engage your target audience's attention. In web design and marketing lingo, this is called a "hero" banner. This banner should include an image that represents your customer avatar experiencing the benefits of your service. Pairing a targeted benefits statement with a visual cue, at the top of your web page, will let your ideal visitors know they're in the right place.
You can see an example of a benefits statement, and hero image, above. This is a screenshot of Vox Pop Marketing's homepage, above the fold. The benefits statement tells small business owners that our services will help them to get more website leads.
In the image, our "hero" (a small business owner) is happy to be getting those new leads after hiring our online marketing services.
See another example, below. This is the hero banner on our Web Design Services landing page. In this image, our hero is experiencing the joys of having an easy to use, updated website for his small business.
Copywriting & Web Page Formatting
Once you've captured interest with your website hero section, you'll need to draw visitors down the page and entice them to keep reading.
But here's the catch …
People don't read websites. They scan.
According to a study by Microsoft, the average person has an attention span of just 8 seconds. This is a sharp decrease from the average attention span of 12 seconds in the year 2000.
What this tells us is that if a visitor can't understand your business and its offerings within seconds, they're less likely to stay on the page.
This highlights the importance of having formatted web page design and body copy for all of your website landing pages.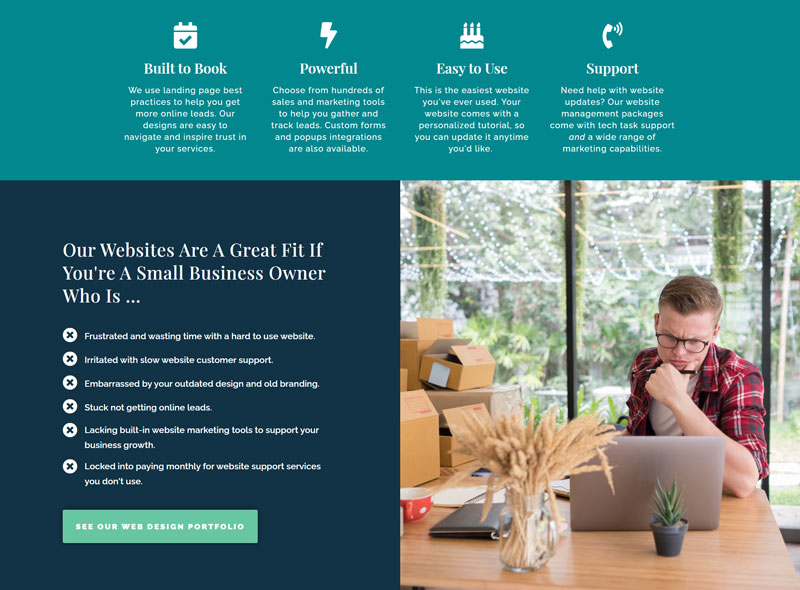 Web Page Design & Formatting for Readability
Readers should be able to scan your web pages and easily find the information they're looking for. To that point, scannable text and design should highlight the benefits and solutions you provide.
Here are a few ways your web pages can be designed for scanning:
Offset unique content with horizontal, color blocked backgrounds. (ie: services can be offset from "about us" copy, etc.)
Columns with an icon or image, plus a title and text (used to highlight benefits, solutions or services)
Accordion boxes (streamline your FAQ or other multi-faceted content)
Icon text lists

Ways to format text for scanning include …
Headline text
Subheadings
Bolded phrases
Bullet point/icon lists
In addition, use targeted headlines and sub headlines to engage attention and draw the eye to important information. Having a well defined customer avatar will help you to write impactful headlines and body copy.
Also, keep in mind that easy readability is essential. Avoid industry jargon and always assume your reader doesn't know what you know. Explain your solutions with the wording your customers would use and include details they'll need to fully understand your offers.
Lead Magnets & Lead Forms
Website lead generation requires that you capture your visitors' contact information. The most direct way to do this is by collecting email addresses, in a lead form, in exchange for something of value to your potential customers.
That something of value is your "lead magnet". The best lead magnets make a specific promise related to your core services.
Promote your lead magnet on your most high traffic website pages. To access the resource, visitors should fill out a form that is tied to your email marketing software. (See the example image above.) This is how you will build your list of qualified leads and send them emails.
4 Types of Lead Magnets
The following four lead magnet types can be used to attract more leads to your marketing and sales funnels …
Shortcut to their desired outcome (cheat sheet, swipe file or checklist)
Answer to a specific question (report or guide)
Discount for a particular service or product (discount code)
Example of how the outcome they want can be achieved with your solutions (case studies)
Lead Query Forms
Another website lead generation staple is the lead query form. Its purpose is to let visitors ask questions and get answers about your services in relation to their specific needs. (See the above example image)
You can also use this form to schedule a complimentary call where you gather information from the prospect and provide an estimate or follow-up service proposal.
Methods to Optimize Your Lead Query Forms
If you already have lead query forms and they're not getting hits, you might try one or more of these solutions …
Place lead forms on your most high traffic web pages.
Test various headlines and calls to action.
Limit the number of questions on the form to just the essentials.
Make the form stand out with a colored background or a semi-opaque hero image.
Change the button color to stand out from the rest of the page.
Test the button text and make it action oriented (ie: Get my quote)
Determine if you're getting enough traffic to convert leads.
Web Traffic
Your website design, copywriting and forms might not be the only possible roadblocks to online lead attraction. Like sales, the lottery and dating, lead generation is a numbers game. The more numbers you have to work with, the greater your odds of winning.
How much web traffic you need depends on these factors …
Sales goals
Lead Conversion Rate – How many unique website visits equal a lead
Sales Conversion Rate – How many leads equal a sale

Lead Conversion Rate
This is the percentage of total website visitors that fill out a lead form or give you a call. A high lead conversion rate lets you know your copywriting and web design are effective.
Sales Conversion Rate
This is the percentage of total leads that result in sales. A high sales conversion rate indicates your sales strategies are effective.
If you don't already, start to track and analyze traffic to your website with Google Analytics. Then, calculate the average number of unique website visitors it takes for you to get a lead. From there, determine how many leads it takes to get a sale.

How to Calculate Your Conversion Rates 
Lead Conversion Rate = Number of Leads / Total Unique Visits on Site X 100
Sales Conversion Rate = Number of Sales / Number of Leads X 100
With specific conversion rates in mind, you can work toward generating the web traffic you need each month to reach your lead attraction goals.
Ways to Increase Web Traffic
You can use any mix of the following methods to increase web traffic. By no means do you have to do them all. If you're a solo business owner or have a small team, start with the areas where you feel you can make the greatest impact, or hire outside help to get you started.
Paid advertising
Social media marketing
Search engine optimizing your website
Improve page speed loading time
Mobile friendly website design
Publish regular blog content and free reports
Promote your content and free reports on social media
Write guest blog articles for high traffic websites
Invite others to guest blog on your site
As you can see, there are plenty of ways to get more website visitors. Don't let a lack of traffic be a barrier to your online lead generation. Choose up to three or more of the above options and work them into your marketing strategy.
If you're a micro business owner with a shortage of time and capital, start small and work your way up as you go. Your efforts will add up over time. If you do have resources, but you and/or your team are spread thin, consider booking a few hours of professional marketing services. This will help you to gain momentum and scale your online marketing efforts.
Test What Works
You might be surprised to learn that landing page best practices don't always work to attract leads. For example, having an email opt-in form above the fold is a best practice. Yet, Hubspot found they got 304% more lead conversions when they added a form below the fold. This emphasizes the importance of testing what works.
The ideal website lead gen strategy is to begin with web design best practices. Then, measure the results with tracking software like Google Analytics (GA), and fine tune your pages from there.
GA and other tracking software will show you the impact of your pages and forms. Review the data to learn where your website is working, and where it's failing to keep and convert visitors into leads. As you test pages, remember to make one change at a time. This will help you to pinpoint what generates the best results.
How to Optimize Your Web Pages for Leads
Choose one element to adjust. (ie: headline, image, call-to-action, button color, etc.)
Compare the results from the month before you made the change to the month after you made the change.
Keep the winning element and discard the other.
Repeat this process until you've reached your desired outcome.
If you're running ads, and getting substantial traffic, you can accelerate the pace of your testing by driving traffic to two landing pages. These pages will be nearly identical, with the exception of the element you're testing. Changes to the headlines, calls to action and body copy will most likely have the most impact on your results.
Summary of Ways to Optimize Your Website for Lead Generation
Website lead generation requires that you have several well executed elements for your website, as well as enough web traffic. Make sure you thoroughly understand your customer avatar to laser target your copywriting and lead magnets. And ensure your web page designs are streamlined for easy viewing and reading.
Also, remember that not all lead page best practices will work for your audience. Test and review the metrics for alternative headlines and body copy, plus lead form placement and page design elements.
It can be helpful to have an unbiased, outside party to review your website. Ask … is your messaging clear? Are your pages easy to scan and read? Is it obvious what to do next or how to contact you?
Overall, the success of your website lead generation hinges on your ability, and willingness, to change things that aren't working and testing new ways of presenting your offers.