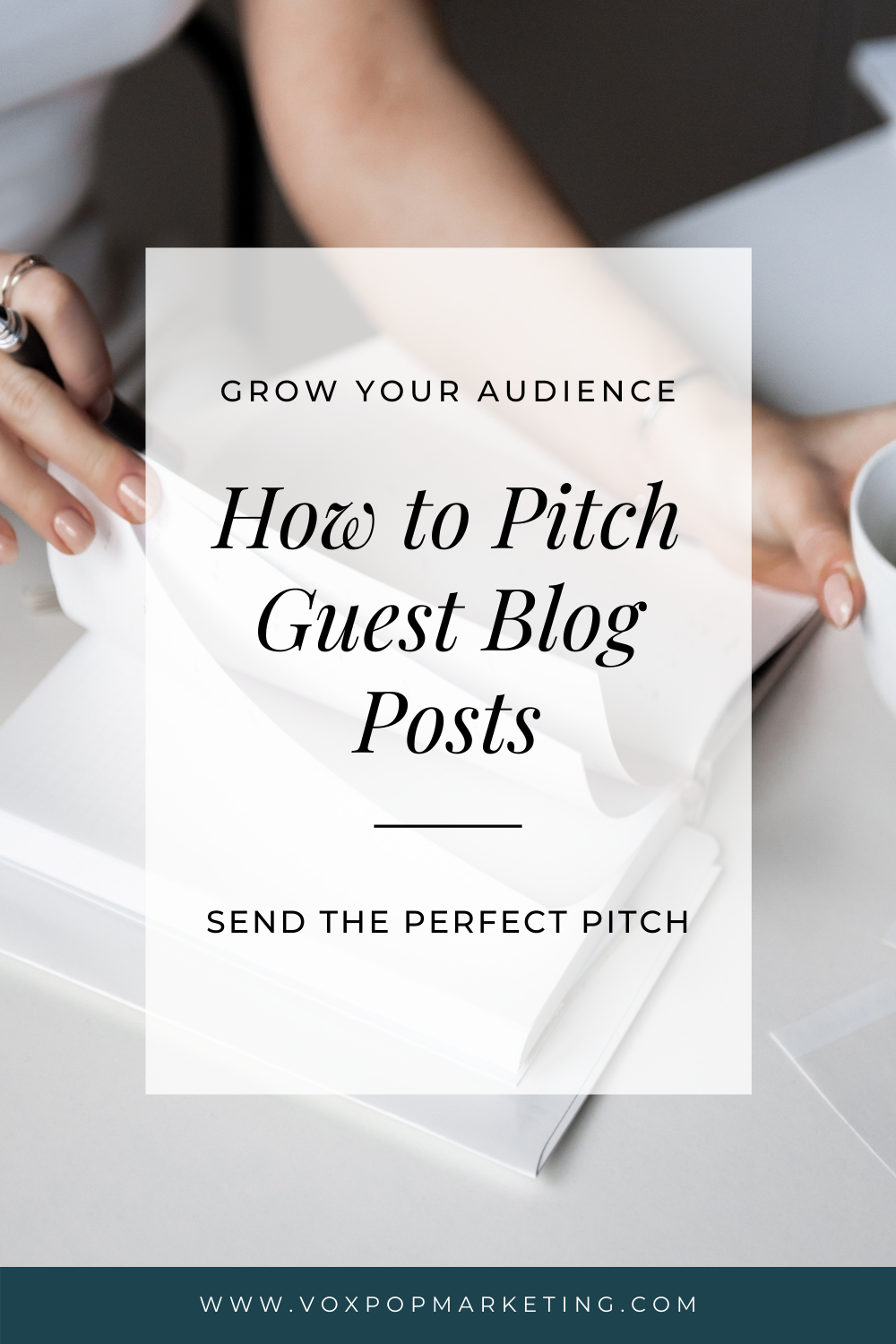 Every business needs to continuously reach new audiences. Doing a guest blog post is a perfect way to get your business seen by more people. Use this strategy to enhance credibility in your field and introduce your business to broader, targeted online audiences … and all for free.
Before starting my first digital marketing business, I was a newspaper reporter and magazine editor in a small newsroom. As the reporter in charge of the arts and entertainment beat, I got a dozen or more PR pitches to my inbox every day. It gave me a unique perspective into what to do and what NOT to do when sending a pitch. That experience came in handy when, as a marketing professional, I began to pitch guest blog posts to websites for my business and for my clients. 
Reasons to Pitch a Guest Blog Post
Guest blog posting is especially useful for professional service businesses, because a website that chooses to publish your content is essentially vouching for your credibility as an expert in your field. In addition, guest blog articles typically feature an "About the Author" section. This gives you the opportunity to introduce your business, and link back to your website, which drives new traffic and increases your SEO ranking.
How to Pitch a Guest Blog Post 
Research Websites to Pitch Your Guest Blog Post
First, research websites to pitch your guest blog article to. Look for websites that are known to publish articles on topics related to your industry. If you don't know where to start, search online for … 
Best [industry] blogs for [target audience]
Competitors who have been featured on other websites. "As seen on" logos will let you know which websites to research.
Top [industry] blogs
Business Competitors, Web Traffic and Audience
Competitors: When reviewing a website, check that it doesn't belong to a business competitor in your field. Your chances of being featured, and linked back to, from a competitor's site are slim.
Audience size: You want your article seen by as many people as possible, so check that the website has an established readership. You can determine the threshold that is valuable to you, but a good audience size to start with is at least 1,000 monthly page views. You can also look up the monthly traffic a website gets with the free SEO keyword tool, Ubbersuggest. 
Audience demographics: Finally, to learn about a website's audience, search for a Guest Blog Post or Editorial Guidelines page, like this one featured on Hubspot. These pages will often give you more clarity about a websites' readership, the topics they publish and how to submit your guest blog pitch. 
Plan and Write Your Guest Post Pitch 
Personalize, Keep It Brief and Come With an Angle
Start with a personalized approach. Template emails don't go over well when pitching, so let the website editor know you've familiarized yourself with their website and audience. 
Next, briefly introduce yourself, and pitch one or more topic ideas related to your industry or business services. The best pitches have an interesting angle or share a unique point of view. Some editors like to see an outline of your proposed article, so if you're pitching just one article, you might include it in your email. 
Now, in order to really drive a winning pitch, be sure to add — in a few words — how your article can benefit the website's audience. Remember, the goal of your pitch is to sell the website editor on what you can do for them and their audience. So avoid directly promoting your business, and let your article angles take center stage.
On another note, they say a photo is worth a thousand words, so it can be helpful to include an image or graphic that aligns with your story angle. Even a related meme or gif can add personality and a memorable appeal to your pitch.
Edit, and Then Edit Again
Now that you've done all of this work, don't let your pitch to tank over punctuation. Edit your writing thoroughly so it's error free. If a website editor sees a sloppy pitch presentation, they can assume you'll send a sloppy article. Website editors are busy and don't want to painstakingly edit guest blog posts that should already be pristine. 
Follow Up
Now, the third and final step for pitching guest blog articles is to follow up with the website editors you've contacted. This is an important step, because an editor might like your pitch but then get busy and forget to respond. It can take time for your contacts to comb their inboxes and reply to queries, so give it at least 7 days before reaching back out. 
What to Do Next: Now that you know how to write a winning guest blog post pitch, you'll need to nail the article writing so you can wow the website editor and entice people back to your website. Read our article, "How to Write Great Blog Posts (That Win Business)," to prepare for your guest blog post debut.